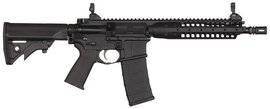 This item may be shipped to an FFL near you! The item will be held at our location until we have received a valid copy of your dealer's license.
LWRCI Enhanced Fire Control Group. Dual Control fully ambidextrous lower receiver includes bolt catch and release, magazine release and fire control access from both sides of the rifle. Magpul MOE Grip. NiCorr treated cold hammer forged threaded barrel 1/2-28 TPI. LWRIC Ambidextrous Charging Handle. Monoforge upper receiver with LWRCI modular rail system. Adjustable 2 position gas block for easy switching between suppressed and unsuppressed shooting. LWRCI Compact stock with integrated sling attachment point. LWRCI Ambidextrous Sling Mount and A2 Birdcage Flash Hider. All NFA rules apply.
State restrictions:
CA CT CO DC HI MA MD NJ NY
Stock:
Ships in 3-5 business days.