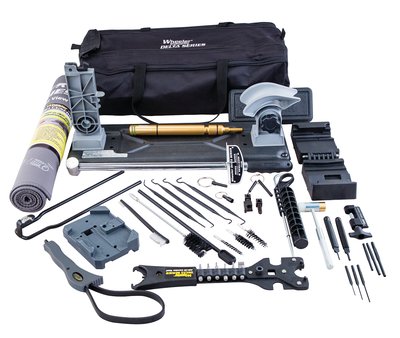 This item may be shipped directly to your home address!
Contains every tool a gunsmith or armorer needs to complete a full rifle build, make repairs or perform maintenance on AR-15/M16 platform rifles. Includes: AR Armorers Vise, AR-15 Combo Tool, Torque Wrench, AR-15 Armorer's Bench Block, AR-15 Roll Pin Install Tool Kit, Upper Vise Block Clamp with Gas Tube Alignment Tool, Maintenance Mat with Exploded view AR-15, Pivot Pin and Roll Pin Installation Tool, AR Front Sight Tool, Delta Ring Tool, Strap Wrench, AR-15 Bore Guide, AR-15 Adjustable Receiver Link, Bore Brush, .22 Caliber, Bolt Carrier Brush, Chamber Brush, Magazine/Upper Receiver Brush, Nylon Brush Handle, Double-ended General Cleaning Brush, Cleaning Pick Set and custom fitted carrying case.
Stock:
Ships in 3-5 business days.