Dan Arnzen
Owner
Dan spent most of his adult life in the corporate engineering world of semiconductor process development and manufacturing. His background in shooting is as an enthusiast and he enjoys shooting handguns, rifles, and shotguns of all calibers. He's lived in Eden Prairie since 1997 and thought the neighborhood needed a new gun store; Arnzen Arms is the result.
Kate Arnzen
Owner
Kate originally worked in the semiconductor industry as an electrical engineer with Dan, but decided that buying and selling guns was way more fun and quit her day job to work full-time at the shop. Kate is in charge of purchasing and receiving inventory, and can often be found in the back of the shop, plowing through new shipments. She's the person to talk to for special orders and getting hard-to-find items. Kate's favorite firearms activity is pistol shooting, particularly action-oriented sports like USPSA/IDPA, and she also enjoys beating Dan at an occasional round of sporting clays.
Brian Fabian
Store Manager
Brian grew up hunting and fishing in southeastern Minnesota. While most of his recent experience has been in competitive action shooting like USPSA and 3-Gun, he is rediscovering his passion for hunting. While all of his career has been spent in manufacturing as an engineer, he couldn't pass up the opportunity to work with incredible staff at Arnzen Arms.
Matt Barnhart
Sales, NFA Manager (Full Time)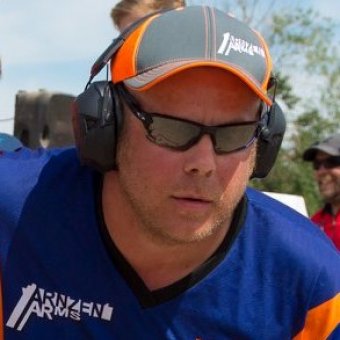 Matt started shooting at the age of 8 which kicked off his life-long fascination with firearms. As a tinkerer it was just a matter of time before he found his favorite platforms the 1911 and AR15. According to Matt he will always be an avid deer hunter but is expanding into the action shooting sports. When Matt isn't at the shop or on the range you will find home managing his lawn and snow removal business - Matty B's!
James "JT" Canakes
Sales
I worked at Arnzens from 2015-2018. I started working here again in August 2022, and I'm happy to be back.
I grew up in a hunting family, so I have been walking upland fields and sitting in deer stands since I was old enough to carry a BB gun. I still love upland hunting the most, but I have tried just about every type of hunting.
Along with hunting, I grew up shooting pistols with my dad as a hobby. That hobby turned into competitive shooting where I primarily focused on pistol shooting, but I also dabbled in 3-Gun. Competitive shooting was a great way to push my boundaries and dramatically improve my skills.
I wouldn't say I have a specific specialty when it comes to firearms, but I have a well rounded knowledge and interest in a wide variety of shooting sports.
I love working at Arnzens because I have a passion for discussing firearms and helping customers find the perfect equipment for any situation. If you ever have any questions or need help weighing options, I'm happy to help.
Charlie Betz
Sales
Charlie recently retired from a career in finance / wealth management. As a past loyal customer of Arnzen Arms he learned of an opportunity to work there part time and jumped on it. He enjoys golf, hunting (deer, pheasant and grouse) and self-defense. He has a black belt in Karate and is currently an active member of his church's Safety/Security Team.
Chris Hansen
Sales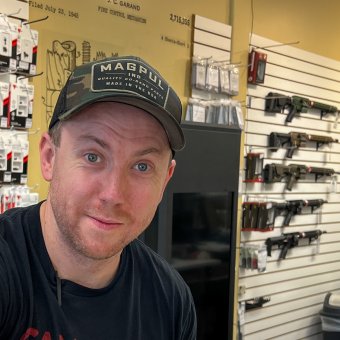 My name is Chris Hansen. I am a 16 year Subaru Master Technician by trade and an Arnzen Customer turned Employee. I have been a firearm enthusiast and 2A supporter for the last 20 years. When I'm not at the shop you can find me shooting steel with my favorite firearm brands (FN, HK, SIG, IWI, LWRC & B&T).
Alyssa Heher
Sales (Full Time)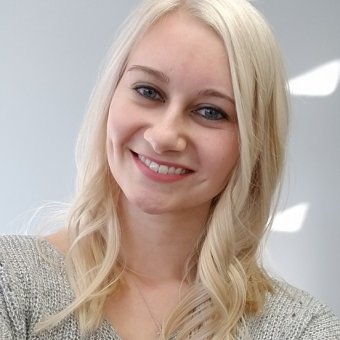 Alyssa is a full time sales associate at Arnzen Arms. Something she has in common with a lot of customers is that her favorite guns are Glocks and Sigs. She has years of previous experience in another local gun store and loves to shoot!
Jerry Hershey
Sales (Part Time)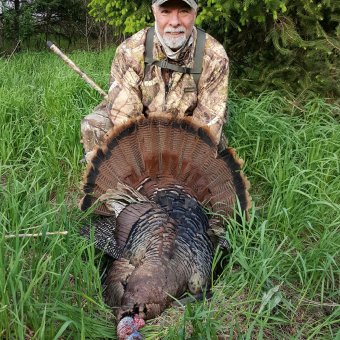 Jerry is our shotgun expert and knows things that the Parazzi family forgot generations ago. He loves to hunt pretty much every game animal, but is most fond of turkey and pheasant hunting.
Julien Melgarejo
Sales (Full time)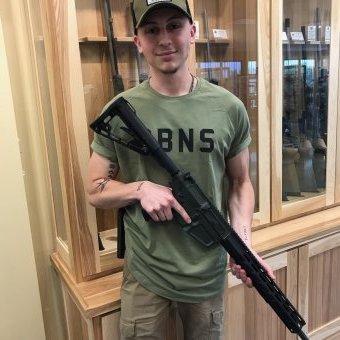 As a Northern Minnesota Native, Julien has been hunting since he was old enough to hold a gun. It is no surprise that he is now an avid white-tail hunter. When he isn't at the shop or in a deer stand you can find him tweaking and testing his favorite platform, the venerable AR15.
Erik Nielsen
Sales (Part Time)
Erik started shooting with family early on. This grew into hunting and sport shooting. In the late 1990's Erik shot his first bowling pin match followed by USPSA and Steel Challenge and has been shooting competitively ever since. He is also an avid deer hunter and shotgun sports shooter. With a great interest in handguns, he enjoys helping first time buyers find that perfect fit.
Dave Schwieger
Sales
Dave spent most of his adult life as a truck driver. He grew up around guns and developed a love for shooting.
Mark Stevens
Marketing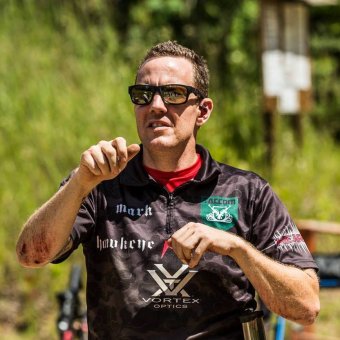 Mark is a relative newcomer to the shooting world purchasing his first firearm in early 2012. Don't let this fool you. The sickness is strong with this one. In that time he has become a fixture on the local 3 gun scene, competed in 6 3 gun nationals, become a partner in a custom gun shop - Hawkeye Ordnance, started a popular youtube channel for 3 gunners / defensive shooters and started a firearm centered sales and marketing company - Hawkeye Syndicate. Check him out on youtube here: https://www.youtube.com/channel/UCC7uN6EGodiic33jCvKo7KA
Rye
Shop dog, hunting companion
Rye was adopted by the Arnzen family in the summer of 2017 and spends a lot of time at our shop. He is a gentle, affectionate, wire-haired pointing griffon with eyes that look almost human. He is an excellent hunting companion and a champion "burr magnet" which will sometimes give him a mangy appearance.